Gov. Andrew Cuomo To Ban Fracking In New York State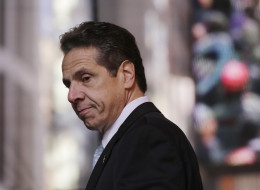 New York Gov. Andrew Cuomo (D) will ban hydraulic fracturing, also known as fracking, in his state, officials announced Wednesday.
"I will be bound by what the experts say," Cuomo said at a press conference.
In his remarks at the conference, Cuomo lamented the emotionally charged nature of the debate over fracking, a process that uses a high-pressure blast of water, sand and chemicals to tap into natural gas reserves contained in shale formations. "Let's bring the emotion down and let's ask the qualified experts," said Cuomo, who quickly turned the press conference over to state health and environmental officials.
The officials said the potential health and environmental impacts are too great to allow fracking to proceed in the state at this time, and pointed to a dearth of studies regarding the long-term safety of hydraulic fracturing. The New York State Department of Environmental Conservation will issue a legally binding, supplemental environmental impact statement next year outlining its findings on the issue.
The potential adverse impacts of fracking are "widespread," DEC Commissioner Joseph Martens said at the press conference. He added that the prospects for fracking in New York are "uncertain at best," and the economic benefits are "far lower than originally forecasted."
Read the full article at  The Huffington Post  |  By James Gerken