WASHINGTON/BEIRUT, May 16 (Reuters) – U.S special forces have carried out a raid inside Syria that killed a man identified as a senior Islamic State leader who helped direct the group's oil, gas and financial operations, U.S. officials said on Saturday.
The White House said President Barack Obama ordered the raid that killed the Islamic State figure identified as Abu Sayyaf. U.S. officials said his wife was captured in the raid.
It is the first publicly declared special forces operation by U.S. forces in Syria since their failed attempt to rescue American journalist James Foley and other American hostages held by Islamic State last summer. Foley was killed by the ultra-radical group, an offshoot of al Qaeda.
The United States is leading a coalition in a military campaign to roll back the jihadist group whose self-declared caliphate in Syria and Iraq has reshaped the region.
Islamic State pressed attacks in both countries on Saturday.
In Iraq, its fighters battled Iraqi security forces in the city of Ramadi, where its black flag was raised over local government headquarters on Friday. Were it to fall, Ramadi would be the first major city to be won by the insurgents since an effort to push them back began last year.
In Syria, they fought Syrian government forces for control of the ancient city of Palmyra, an attack that has raised fears its UNESCO World Heritage site could meet the same fate as monuments destroyed by Islamic State in northern Iraq.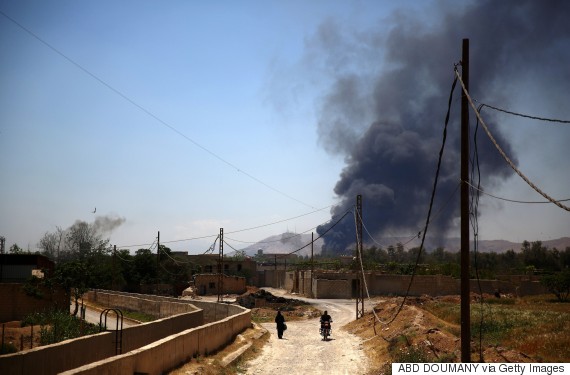 Smoke rises after fighting in Arbeen, Damascus on May 16, 2015.
While Washington is working closely with Iraq in the fight against Islamic State, it has shunned the idea of cooperating with Syrian President Bashar al-Assad, who it says has lost legitimacy to rule and must leave power.
The United States said it did not warn Assad in advance or coordinate with his officials over the special forces raid.
Conducted by U.S. personnel based out of Iraq, the raid targeted area called al-Amr in the eastern Deir al-Zor province, an Islamic State stronghold rich in oil that bridges territory the group controls in Syria and Iraq.
"During the course of the operation, Abu Sayyaf was killed when he engaged U.S. forces," White House National Security Council spokeswoman Bernadette Meehan said. The operation was conducted "with the full consent of Iraqi authorities."
There was no immediate comment from Damascus.
Assad said in February he had been informed about U.S.-led air strikes against Islamic State in Syria via third parties including Iraq, with which his government has close ties.
A U.S. official said about a dozen fighters were killed in the overnight raid.
Syrian state TV initially credited the Syrian army with carrying out the raid, saying it killed 40 Islamic State militants and the group's "oil minister," who it identified by a different name.
The Syrian Observatory for Human Rights, a UK-based organization that tracks the war using sources on the ground, said at least 19 Islamic State members were killed in an air strike in the area which it said was carried out by U.S. forces. Twelve of those killed were non-Syrians, it said.