According to reports, 31-year-old Guan Hsuing was trying a new recipe with exotic spices when she suddenly started having an intense allergic reaction to something in the dish. As her throat started to close, she tried to clear her airway using her fingers, then a pair of chopsticks, but nothing was working.
Doctors in China were surprised when a woman arrived at the hospital with a spatula stuck in her throat. They managed to remove the spatula and save her.
As breathing became more difficult, Hsuing shoved a nearly 12-inch-long spatula down her throat to try t to open up her airway. The utensil became stuck in her throat.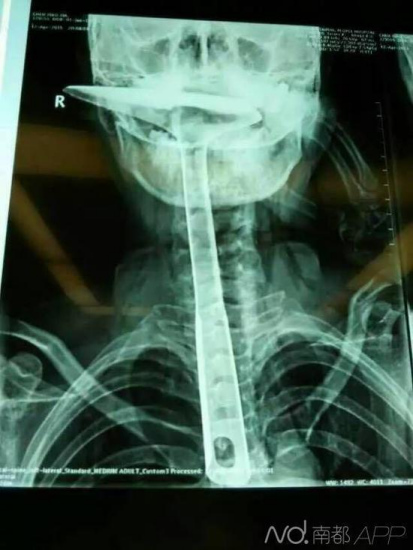 "I remember some folk remedy saying it helps to use something to unclog the throat," Hsuing said, reported Daily Mail.
As her breathing became more labored, her daughter brought her downstairs to help her. After eventually being rushed to the hospital, doctors saw her and assumed she was mentally ill. They soon realized she was close to death with a spatula lodged in her throat.
Miraculously, the doctors were able to remove the utensil, but in the process, they had to cut away 8 inches of her esophagus and stretch out her stomach lining to connect it to the remaining portion of her esophagus.
Doctors say the woman's recovery is nothing short of a miracle and note that this case is one they'll likely never see again.
Sources: Daily Mail, Ecns.cn 
Photo Source: Via Daily Mail