Dozens of Black Lives Matter and anti-police supporters, including an editor for ThinkProgress have taken to Twitter after the murder of three Baton Rouge police officers earlier today.
Zack Foster, an editor for ThinkProgress, said it was "no surprise" that some people were "taking justice into their own hands."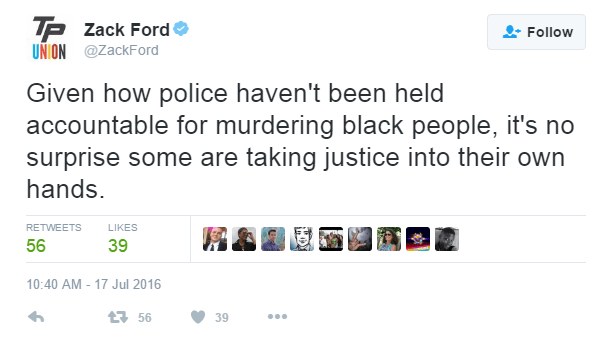 "DJ Niyo Davinci," a DJ and producer who claims to have worked with high-profile rappers including Lil Wayne joked that he was "riding around Baton Rouge Wit A Big Pistol" and said that it "feels good to see N***as knocking these pigs off."
https://twitter.com/FSNIYO/status/754722009196539904?ref_src=twsrc%5Etfw
"Sorry not sorry to hear about officers being shot in Baton Rouge. It was only a matter of time you pigs had it coming" posted one user on Twitter along with a series of pig emojis, before deleting the tweets after heavy backlash. "If police won't get their shit together, civilians will continue to take matters into their own hands. Don't blame em either. Fire away".
Three more pigs killed in baton rouge.

— larry rush (@rushljr) July 17, 2016
"Loling at the fact that they shot the Baton Rouge police" posted another user. "That is the only police department that I know deserved it aside from dpd".