Mystery has surrounded the sudden "disappearance" of the Mandalay Bay security guard who was shot by Las Vegas gunman Stephen Paddock six minutes prior to Paddock killing 58 people at a country concert outside the hotel. It's been reported that Jesus Campos was working on the 32nd floor of the hotel when he was shot in the hall by Paddock who minutes later hosed the crowd down with relentless gunfire from his birds-eye view of his victims.
Campos is suspected of knowing far more than he's said and was going to reveal his witness account in several interviews among multiple networks, the first being with Sean Hannity on Fox News. Minutes before he was so to go live with Hannity, he allegedly disappeared and hasn't been seen or heard from yet. Now, something else has just come to the surface about Campos which seems to answer the question about why he's hiding while his "whereabouts are unknown."
"For the past four days he's been preparing … we had a meeting with MGM officials, and after that meeting was over, we talked about the interviews, we went to a private area, and when we came out, Mr. Campos was gone," Hickey told reporters, according to Fox 5 Las Vegas. "Right now I'm just concerned where my member is, and what his condition is. It's highly unusual," Hickey added.
While multiple reports have said that Campos is now "missing" after bailing on his interview and showing up at an urgent care clinic after, police say that he's not actually missing since they know where he is. Of course, they helped keep his location hidden from the public as well as why a supposedly innocent man refuses to speak to anyone. However, while he's being kept out of sight he's not out of mind especially after something really inconvenient to the claim of his innocence just came up.
Check in with FreedomDaily for more on this developing story
Despite being two weeks into the investigation of the deadliest shooting in modern U.S. history, we are in no more informative place on the motive than we were the morning after the horrific massacre took place. More questions mount by the day and it's beyond suspicious at this point. A lot of focus has been placed on Campos who has first-hand knowledge of the killer and isn't talking, either by choice or by gag order. Investigative journalist Laura Loomer has relentlessly pursued this case and Campos specifically since authorities seem to be silent on it and in the process, she found a major piece of Campos' identity that he seemingly tried to hide.
Another name has now been called into question adding mystery to the most mind-boggling case in the country right now. Loomer, along with the rest of us, want to know who Jesus Quintero is.
The Gateway Pundit reports:
Investigative reporter Laura Loomer obtained an exclusive report about Mandalay Bay security guard Jesus Campos who was shot in the hallway by Stephen Paddock.
It appears Campos shared a Social Security number with a person named Jesus Quintero.
Loomer tweeted, "EXCLUSIVE: #JesusCampos intel report reveals he shared SSN w/ Jesus Quintero. Is #JesusCampos an illegal alien? Does @MGMResortsIntl know?"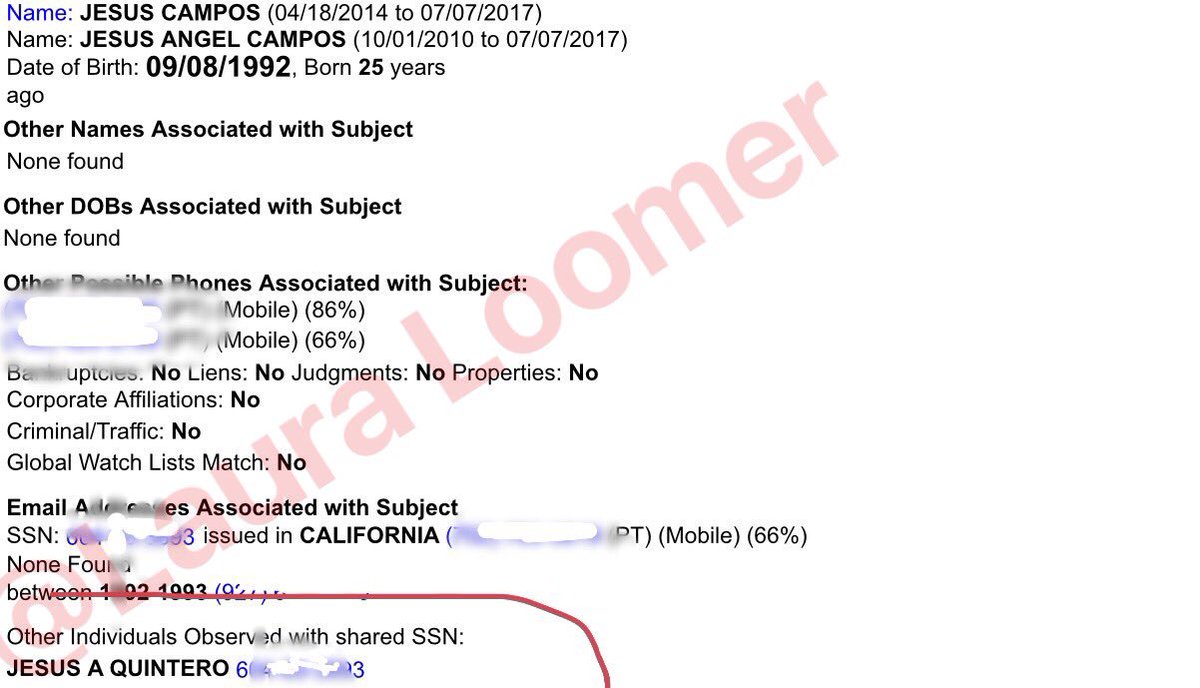 The Gateway Pundit also previously reported that the security guard made famous in the Las Vegas shooter story is not even registered as a guard with the State of Nevada. Perhaps this is because he's not legal in this country and it's hard to register when you're not a citizen. Campos lacks all manner of documentation, both to be in this country and to work at the job he was employed at which doesn't look great for Mandalay Bay for employing him (and possibly other illegal immigrants). This revelation has only introduced more question into the investigation which is riddled with inconsistencies.
Check in with FreedomDaily for more on this developing story
The Gateway Pundit further explains more on this obvious issue:
"Every security guard in the state of Nevada has to register as an armed or unarmed guard with the state's Private Investigator's Licensing Board (PILB).  This entity's records are publicly searchable at: nevadapilb.glsuite.us. "There's no Jesus Campos licensed with the PILB."
"Recently we found out that Campos was shot before the shooter started firing on the crowd below at the music festival in Las Vegas. Before this revelation, we were told that the security guard, Jesus Campos, stopped the killer from murdering more people when he approached the killer's room in Vegas."
So, was Campos at the Mandalay Bay that fateful night illegally? Or was he not even there at all since he's technically not allowed to be by law in the capacity in which he was said to have been working that night? He too is reportedly a victim of this heinous crime, in fact, the first one shot that night if what we're being told is true. Why would a victim of this madman, along with his entire family, be placed under a gag order by authorities and essentially put into protection from the public? It seems that there's far more effort to hiding information and facts than revealing them and that's the most concerning thing about this case.
Check in with FreedomDaily for more on this developing story