A controversial new monument in Dresden to the victims of the battle for Aleppo may have been inspired by temporary fortifications set up by radical Islamists linked to al-Qaeda and the killing of Christians.
In the central square of Dresden, Syrian artist Manaf Halbouni has erected three buses to recreate a famous photograph taken by a Reuters photo-journalist during the battle of Aleppo. The image, which shows three buses stood up, is said to be a fortification against snipers from the Syrian army of president Bashar al-Assad.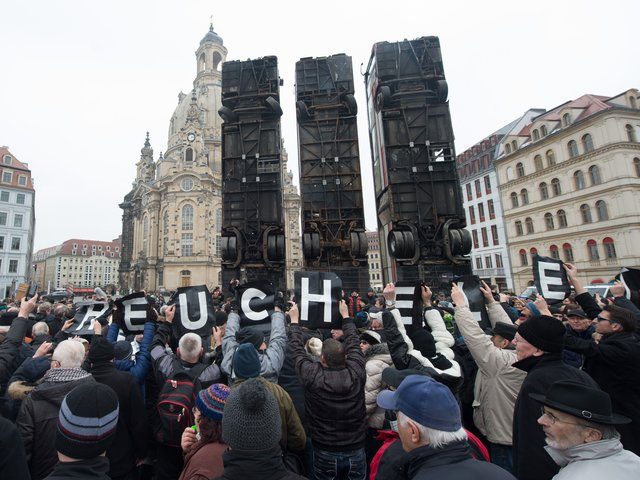 The flag on the top of the image, according to anti-mass migration NGO Einprozent, belongs to a radical Islamist group who were allied with the al-Qaeda-backed al-Nusra Front. 
The group, Ahrar al-Sham, who have since changed their official flag, are described as a collection of radical Islamists and Salafists who want to overthrow Bashar al-Assad and implement strict Sharia law in Syria. According to Amnesty International, the group has engaged in the torture of political opponents and religious minorities alongside other groups like al-Nusra Front (which changed its name to Jabhat Fateh al-Sham in 2016) and the Nour al-Dine Zinki Movement.
Ahrar al-Sham is also accused of specifically persecuting and killing Christians. Reports say the organization killed Christians after "liberating" the city of Idlib in northwest Syria in March 2015. 
DAS sind Barrikaden! "@kritsanarat: Reuters photo from #Aleppo : buses barricading a street, protection from snipers pic.twitter.com/seRyqC8zkC"

— Axel Lier ✏️ (@Reporter_Flash) March 23, 2015
Despite accusations of torture and targeting Christians, the Council on Foreign Relations published an article called, "The Good and Bad of Ahrar al-Sham: An al Qaeda–Linked Group Worth Befriending". The think tank claimed the group may serve U.S. interests to counter more radical groups like Islamic State.